NAL Programs Summer & Fall 2020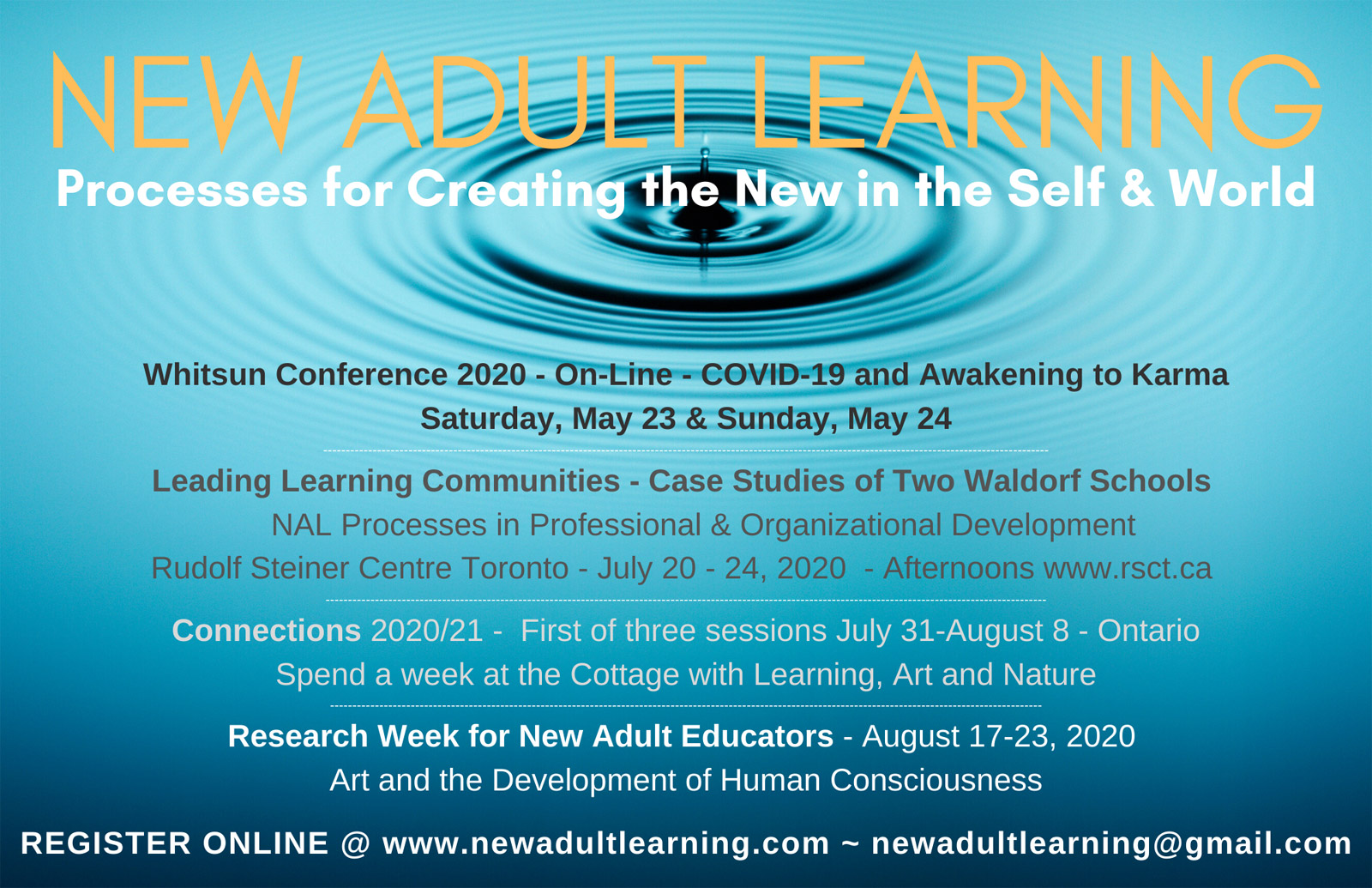 Whitsun Conference 2020 Update – Now OnLine!!!! 
Awakening to COVID-19 and My Karmic Imprint.  We have created an On-Line Conference.  
4 – 2 Hour Sessions – Art Exercises & Conversation, May 23 1-3 & 7-9, May 24 – 9-11, 1-3                       
Connections 2020/21- Summer, March Break, Summer 
What are you doing this summer?  Does a week at the lake with an amazing group that learns and does art exercises together, eats and swims together sound like your kind of holiday?  Join Heather Church and Laurie Harper-Burgess at the cottage in the Parry Sound area this summer.  The program is 3 single weeks offered this summer, March Break, and next summer.    For more information and to register, go to www.newadultlearning.com  
Leading Learning Communities – Case Studies of Two Waldorf Schools
NAL Processes in Professional & Organizational Development 
Rudolf Steiner Centre Toronto – July 20-24, 2020   – Afternoons  
For more information visit https://www.rsct.ca/SummerFestival
Coming Fall 2020
Creating Home, Family, and Community – Facilitator's Training 
Term 1 – Home for Body, Soul and Spirit – ON-LINE – Wednesday mornings, September 30 – Nov. 11, 2020
Do you work with parents or home educators?  Are you looking for ways to build their knowledge, develop their capacities, and support them in creating home, family, and community?  Learn to use the NAL adult learning and transformational processes.   
This program is offered in series of 7 sessions, each session being 2 hours. It will be offered on Zoom. A session begins with a sharing of the week's learning, then a lesson and an art process.  The program is both a professional training and personal development. Through attending the program, each participant receives the curriculum that can be used with parents.  A pre-requisite of the program is that each participant will have 3+ students to share the session with each week.  


For more information and to register see www.newadultlearning.com