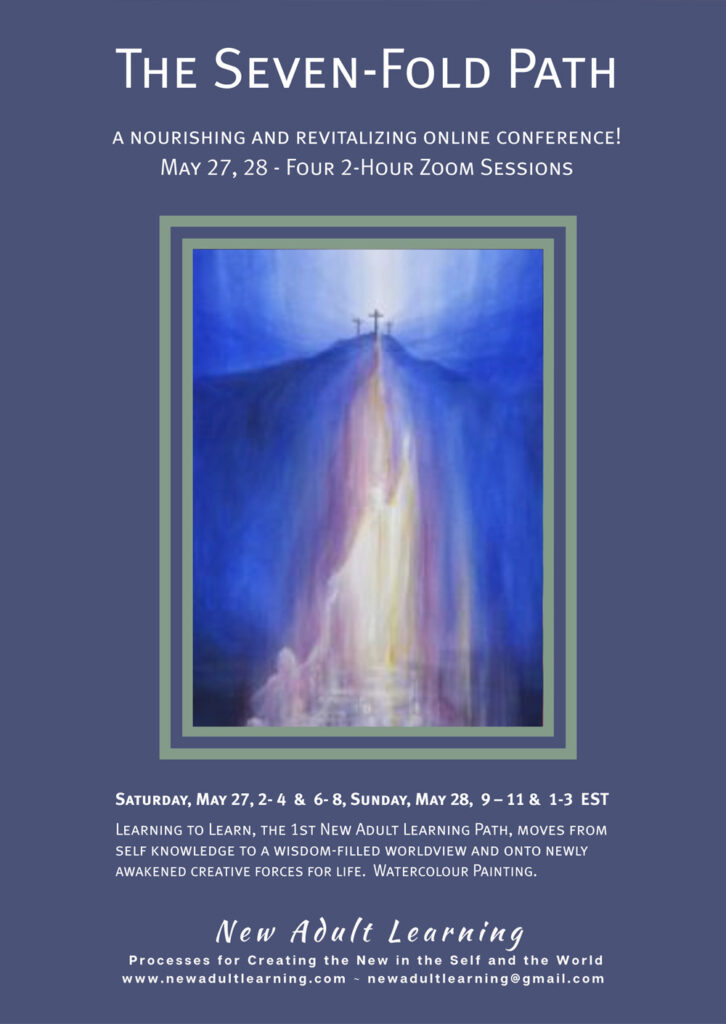 New Adult Learning Conference 2023 – On-Line 
4 – 2 Hour Zoom Sessions
Saturday, May 27, 2- 4  &  6- 8 EST
Sunday, May 28,  9 – 11 &  1-3  EST
Learning to Learn  ~ A Zoom conference that will be nourishing and revitalizing!
Our annual conference offers a taste of the New Adult Learning (NAL) 
processes.  This year we will follow Learning to Learn , the 1st NAL Learning Path,  that unites to a deeper sense of self and wisdom transforming it to the New.
Experience a taste of the NAL Learning processes and see how they offer new light and life forces for you and your work.  We will be working with watercolour painting and in pairs.  This year the program will be offered by Marg Beard.

Supplies needed:  Watercolour painting supplies.  a journal and pencils, a small set of coloured pencils.   
Schedule
Saturday May 27, 2023
Session 1 
2:00 – Welcome, Verse and Introductions
2:20 – Overview of Conference 
2:30 – 3 Paths of the NAL 
3:15 – Path 1
3:45 –  Review Session 1
Session 2
6:00 – Steps 1,2 3 & Going through the Loop 
6:45  – Painting #1
7:15  – Sharing in the Group
7:45 –  Review Session 2 and Prepare for the Night
8:00 – Closing Verse
Sunday, May 28, 2023

Session 3 
9:00 – Opening Verse & Echoes from the Night  & Step 4 – I
9:30 –  Presentation – Step 5, 6 & 7 – Imagination, Inspiration and Intuition and Going through the Loop 
10:15 – Art Exercise – Painting #2 
10:45 – Review Session 3
Session 4 
1:00 –  Painting #3 
2:00 –  Review of painting process  – Work in pairs then sharing in Group
2:30  – Review of the Path 1 and the Conference 
3:00 –  Closing