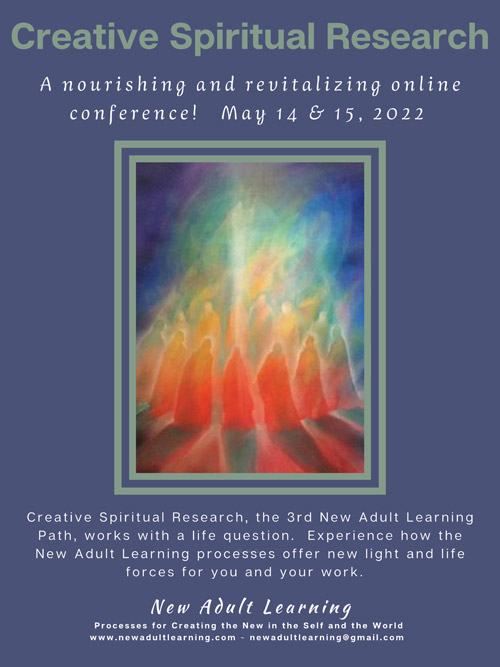 New Adult Learning Conference 2022 – On-Line 
4 – 2 Hour Zoom Sessions
Saturday, May 14, 2- 4  &  6- 8 EST.
Sunday, May 15,  9 – 11 &  1-3 EST.
Creative Spiritual Research ~ A Zoom conference that will be nourishing and revitalizing!
Our annual conference offers a taste of the New Adult Learning (NAL)
processes. This year we will follow Creative Spiritual Research (CSR) , the 3rd NAL Learning Path, that unites to a deeper sense of self and your life purpose.
The 7 Step CSR process works with a life question.

Experience a taste of the NAL Learning processes and see how they offer new light and life forces for you and your work. We will be working with exercises and in pairs.
Supplies needed: A small set of chalk pastels, exercise or art sketch book for pastel drawings or a series of sheets of paper will also suffice. The size of paper should be approx. 12″ x 18″, a journal and pencils, a small set of coloured pencils.
Schedule
Saturday May 14, 2022
Session 1
2:00 – Welcome, Verse and Introductions
2:20 – Overview of Conference
2:30 – Creative Spiritual Research (CSR) Methodology & Step 1 – Finding the Question – Work in pairs
3:15 – CSR Step 2 – Warming to the Question – Individual work and then in pairs
3:45 – Review Session 1
Session 2
6:00 – Step 3 Presentation – Meeting the Self
6:45 – CSR Step 3 – Individual work and then in pairs
7:15 – Sharing in the Group
7:45 – Review Session 2 and Prepare for the Night
8:00 – Closing Verse
Sunday, May 15, 2022
Session 3
9:00 – Opening Verse & Echoes from the Night and Step 4
9:30 – Presentation – Step 5, 6 & 7 – Faith, Love & Hope
10:15 – Art Exercise – Step 5 – Imagination of the Way Forward
10:45 – Review Session 3
Session 4
1:00 – Presentations of Imaginations
2:00 – Step 6 & 7 Exercise – Speaking about your Research Process. – Work in pairs
2:30 – Review of the CSR Process and the Conference
3:00 – Closing Verse