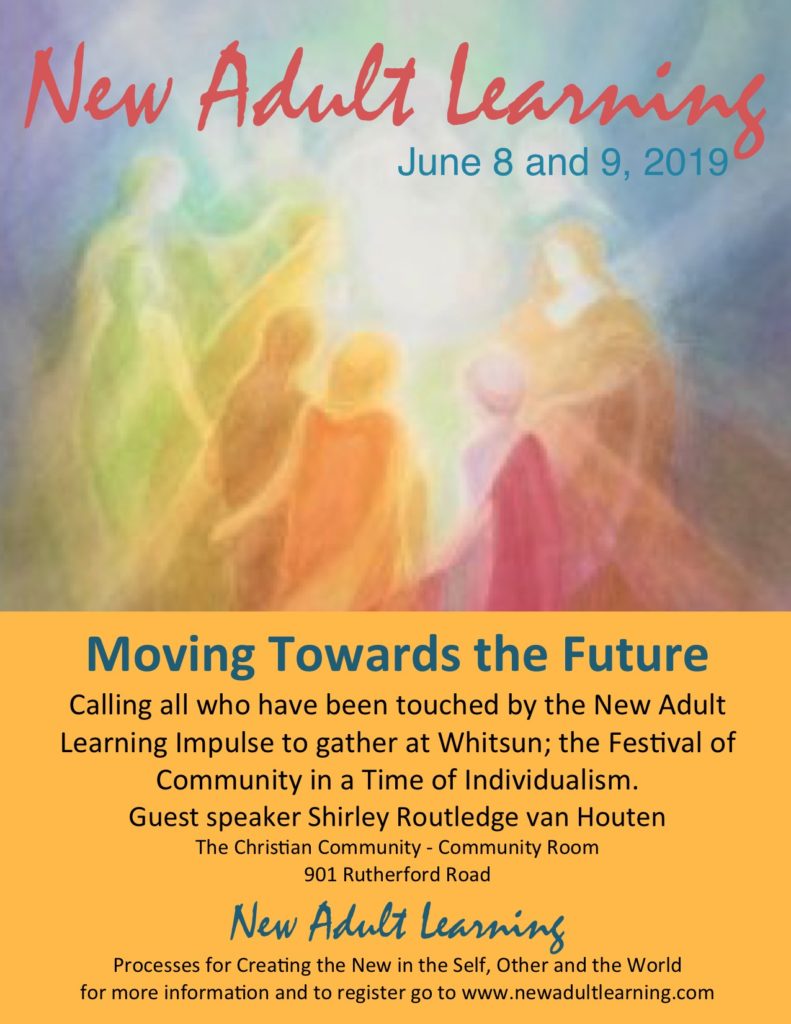 New Adult Learning
Moving Towards the Future
 Saturday, June 8 2019, 3:00 pm to 9:00 pm
Sunday, June 9 2019, 8:30 am to 11:00 am
The Christian Community, Community Room
901 Rutherford Road, Vaughan, Ontario
C$50
Calling all who have been touched by the New Adult Learning to gather at Whitsun: the Festival of Community in a Time of Individualism.  
The seeds of the New Adult Learning Movement (NALM) in Canada were sown by Coenraad van Houten at a Michaelmas event in Toronto in 1979.  Out of this event came an impulse for a centre for adult education, which became the Rudolf Steiner Centre Toronto (RSCT). Many have been touched over the years by those seeds, in programs at the RSCT and other centres.  A group of New Adult Educators has formed, who are being inspired to renew this impulse and are asking, "Where do we go from here?"
Shirley van Houten Routledge, one of the founders of the RSCT and co-founder of NALM,  will speak about the founding of the New Adult Learning Movement in 2000 and its development in Europe.  
A group of New Adult Educators has been studying, researching, and offering NALM programs in their communities.  It was during a 2018 Summer Research Week that the group identified a wish to further the New Adult Learning impulse in North America.   A study of the "The Destiny of the Michael Community: Foundation for the Future" by Peter Selg spurred the group into recognizing the uniqueness of the NAL curriculum and its importance as a path of initiation for our times.  
Connections, My Child Myself, and the New Adult Educator programs have been offered since 2004 and were developed out of the NALM.  Many people have taken these programs, and we invite those who have been inspired to join us for a process of reviewing the 7-step learning process, discussing what it means to be a facilitator of this process, and bringing the New Adult Learning into a new light and wider circle. We are looking forward to being together in the community room of the Christian Community Church and creating a space for the emerging future of the New Adult Learning.
For information on overnight accommodation contact Laurie Harper-Burges at lharperburgess@hotmail.com
Schedule
Saturday June 8, 2019
3:00 – Gathering, Verse and Introductions
3:30 – Presentation by Shirley van Houten Routledge
4:30 – Break
5:00 – Finding the Self in light of the NALM
6:00 – Pot Luck Dinner
7:30 – Finding the Essence of the NALM  
8:30 – Review and Prepare for the Night
9:00 – Closing Verse
Sunday, June 9, 2019
8:30 – Opening Verse
         – Painting the Echoes from the Night
9:00 – Observing and processing our paintings
10:00 – Sharing the New that has Arisen
10:30 – Closing Comments
10:45 – Closing Verse
11:00 – FYI for those that may be interested the Christian Community Service in the same building starts at 11:00.   All are welcome.